Sustainability Pledge
Wunderlich-Malec (WM) is committed to plan, design, engineer and deliver projects that help our customers achieve their sustainability goals. Our corporate strategy of developing tools, products and processes with the commitment of our employees provides our customers innovative solutions to competitively achieve their Net Zero and Circular Economy goals.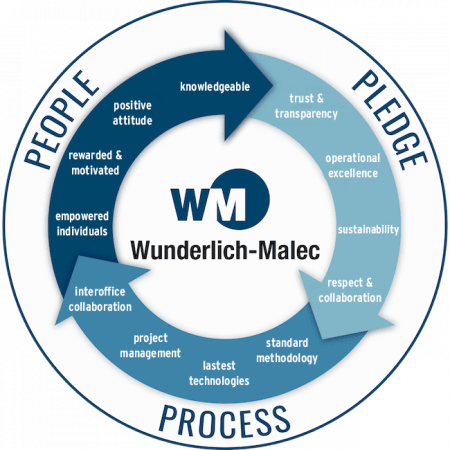 Sustainability Solutions
Wunderlich-Malec works with our customers to meet aggressive sustainability goals including net-zero energy and net-zero carbon goals. We help customers take advantage of state and federal incentive programs designed to stimulate sustainable development. Successful programs include grants, tax credits, and utility incentive programs. We have successfully applied federal tax incentive programs including the Commercial Building Energy Efficiency Tax Deduction (179D), Opportunity Zone Tax Benefit Program, and the Historic Preservation Tax Credit program. The following is a summary of WM sustainability solutions that help customers.
Energy Solutions
Advanced Energy with mGrid™ Competitive, Resilient, & Renewable Energy Delivery Systems with Microgrids Wunderlich-Malec provides a suite of innovative strategies, tools, and software that help your team economically meet aggressive sustainability goals including high renewable content and net-zero goals. Our engineers and patented technology will provide energy economic studies & optimization of distributed energy resources and energy procurement strategies. We have unique programs and solutions that provide economic advantages for Commercial, Industrial and Campus facilities, Utilities and Cities and Real Estate Developers.
Environmental Information Systems (EIS)
Wunderlich-Malec provides industry excellence in emissions monitoring and compliance reporting systems. Whatever the need for emissions systems, WM has the solution. Whether the application requires a CEMS (Continuous Emissions Monitoring System) including analyzers, calibration gases and a comprehensive Data Acquisition & Handling (DAHS), or if the client can take advantage of the advanced PEMS (Predictive Emissions Monitoring System), while improving accuracy and reducing capital and operating costs, WM EIS can get the job done. The CirrusDAHS, "the system that never fails," according to a WM customer, is a highly dependable data acquisition and handling system, with all the features necessary to maintain high-quality data for the owner and for regulatory authorities.
Architectural and Engineering Design Solutions
Wunderlich-Malec multi discipline architecture and engineering (A-E) LEED® Accredited Professionals specialize in sustainable infrastructure, resilient systems, and energy and sustainability studies. Our team has designed several buildings and facilities that exceed LEED® Certification standards and we have designed several ENERGY STAR® Certified buildings, including our own office buildings.
We have completed energy and sustainability assessments of over 100 facilities to develop best-value conservation measures. Other experience includes renewable energy implementation studies involving solar, wind, geothermal, biomass, and hydrokinetic energies.
Electrical Engineering
Our engineers are focused on reduced energy utilization and costs in design of reliable primary and secondary power systems including managing distributed energy resources under all modes of operation. Designs include distributed generation, lighting, technology systems and life safety systems. WM can design any on-site power generation, medium and high-voltage protection, control relay systems, specialized controls and provide arc flash and systems coordination studies in existing facilities to save energy and increase reliability.
Mechanical Engineering
We specialize in sustainable buildings, energy efficient HVAC systems, indoor air quality, and occupant comfort. Our plant utility designs will meet efficiency or energy mix objectives including fuel switching to electric (or hydrogen). Our innovative design approach utilizes the most advanced building systems diagnostic instruments and software tools to efficiently document existing conditions, analyze the energy use and accelerate project schedules. We have completed computational energy modeling of numerous buildings to identify energy conservation measures and to determine the lifecycle economic benefits. WM engineers evaluate durability and maintenance requirements so our customers can consider the total cost of implementation for a high-performance facility.
Advanced Automation
WM is at the forefront of developing and applying advanced production technologies on a wide variety of processes and automation platforms.  Our depth of experience provides insight into safety, best practices, standards and regulations.  We utilize site audits to identify opportunities for quality improvement, waste reduction, additional capacity, and production process improvement.
Business Sustainability Modeling
Wunderlich-Malec cloud-based IIOT Wunder-TechTM application will connect remote facilities via a private network into its Cloud program to gather and encrypt operational data through the local Virtual Private Cloud (VPC) into the WM VPC and allow analysis and provide the engagement of Artificial Intelligence software to reduce energy usage and operational costs by extending equipment life.
Federal
Since 2007, the A-E professionals at WM have completed over 100 projects and programs involving hundreds of Federal/DoD facilities. Our team is familiar with all Federal/DoD design standards and requirements including the Whole Building Design Guide and FAR compliance. In 2015 WM designed new building controls systems to reduce energy consumption in over 80 federal campus buildings which qualified for over $3M in federal tax credits under the Energy Efficient Tax Deduction (179D) program.
Water and Wastewater
The municipal water and wastewater industry is facing ever-increasing challenges. From safety and security to quality and compliance, the need to lower costs and improve asset performance has never been more important. Demand for safe, clean water continues to increase while, at the same time, IT and compliance to NISCC security guidelines continue to become stricter.
Industrial Waste Treatment can be provided by WM's team of uniquely qualified professionals that provide design and engineered systems fabricated to treat and clean water to meet our customers' criteria. WM supplies packaged skid mounted systems designed to eliminate toxic compounds and recycle the water.
Sustainability Program Manager
The advantage to customers of WM's full-service capabilities is we provide the benefits of Program Management that incorporate all our multidisciplined resources to provide an innovative A-E design team with turn-key delivery capability the will deliver a fully engineered highly automated Commercial, Industrial or Utility facility that will meet customers net-zero goals, reduce energy consumption, improve sustainability and operate efficiently.
Recent Sustainability Posts from Wunderlich-Malec