Wunderlich-Malec was founded in 1981 with the purpose of providing excellence in system integration to a wide variety of industries.

We are committed to maintaining the highest levels of skills in all aspects of engineering, programming, installation, integration, start-up, training, service, and troubleshooting. Our staff of over 400 engineers located in more than 30 facilities across USA have years of diverse technology and application experience. Utilizing standard approaches, we provide each client with innovative project solutions. Our Pledge, Process and People insure our customers receive project results that are delivered on time and on budget.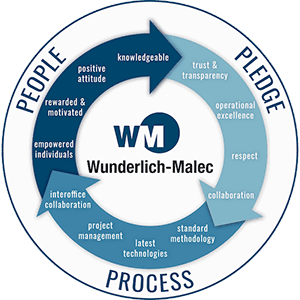 Wunderlich-Malec uses a teaming approach for each project to meet our customer's varied requirements. This includes the customer as an integral part of our design team, defining the scope, schedule and deliverables to insure a smooth and timely start-up. We believe the most effective and positive approach to satisfying our customer is to encourage customer involvement from inception of design through factory testing and final system start-up.
Our team's dedication to total quality is emphasized on every project through standardization of engineering tasks, strict adherence to project schedules, total compliance with defined safety practices on each project, and providing the on-going support required for successful project delivery.
Our Solutions