Wunderlich-Malec focuses on applying Advanced Manufacturing Technologies and Cross-Industry Processes. Technologies are rapidly developing, WM has been at the forefront of applying and developing the future of automation. Our broad background provides insight into widely varied processes, best practices and automation platforms, standards and regulatory environments. Through the use of site audits, we uncover opportunities for quality improvement, waste reduction, additional capacity, and manufacturing process improvement. We provide value by providing actionable, justifiable, automation opportunities.
Our Advanced Automation Services:
Process Improvement Audits
Custom Manufactured Equipment
Robotic Cell Layout and Design Including 3D modeling
Robotic Cell Timing Diagrams and Throughput analysis.
Robotic Custom Tooling Design
Robotic Path Simulation
Robotic Programming and System Integration
Vision System Studies
Vision System Design and System Integration
Vision Lab including Vision Hardware and Software for Internal development and Validation of Custom Vision Solutions
Overall Control System Integration
Equipment Retrofit and Modernization
Automated Manufacturing
Discrete Manufacturing
Material Handling
Automated Warehousing
Advanced Manufacturing
Remote Monitoring and Control
IIoT
Advanced Analytics
Cloud Connected Data
Business Information System Integration
Industry 4.0 Implementation

---
What makes us different? Our Pledge, Process, and People
Your project requires an experienced, trusted and proven organization that is dedicated to YOUR success.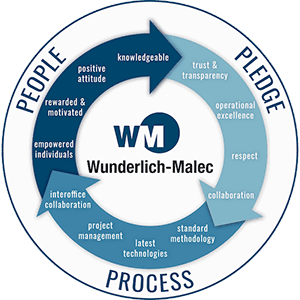 A combination of our …
Pledge of trust, operational excellence, collaboration and respect,
Process of standard methodology, latest technologies, project management and interoffice collaboration,
People that are empowered individuals, rewarded & motivated, knowledgeable with positive attitudes,
… provides the confidence you need to know that your project is going to be delivered on-time and on-budget with results that exceed your expectations.