Protecting our nation's assets and modernizing mission-critical infrastructure.
A lot of interesting projects are underway in Wunderlich-Malec's Federal Services group. Our team is actively engaged on several large and diverse projects at the Pentagon (DoD Headquarters), the Naval Research Laboratory, VA Medical Centers VISN-1, and the U.S. Coast Guard Station in Boston, MA. Many other interesting projects are in the works for 2022 so stay tuned!
Check out our active Federal team job openings here.
If you're interested in learning more about Wunderlich-Malec's Federal projects, please contact us here.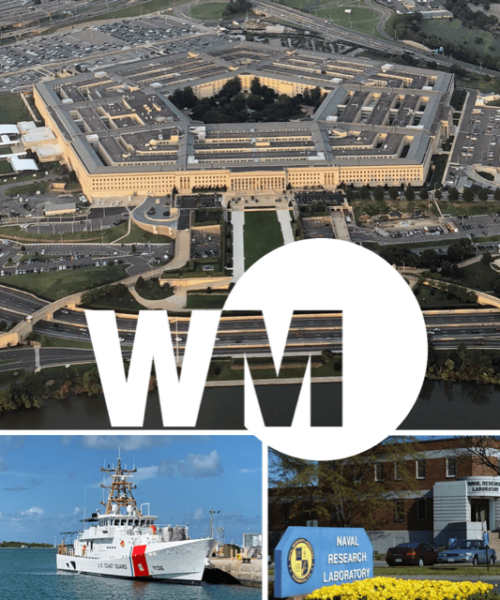 Since 2007, the architect-engineer professionals at Wunderlich-Malec/AECm have completed over 100 projects and programs involving hundreds of Federal/DoD facilities. Our team is familiar with all municipal, state, and federal processes and requirements including procurement, contracting, and FAR compliance. We are intimately familiar with all Federal/DoD design standards and requirements including the Whole Building Design Guide (WBDG) standards and agency-specific standards. In addition to conventional architect-engineer services, we help our clients address all current and trending issues and initiatives.
Planning & Permitting
Facilities Condition Assessments
Feasibility Studies
Infrastructure Modernization
Building Modernization
New Construction (MILCON)
Assessing our nation's infrastructure and improving resiliency to modern issues is a significant concern for facility owners/operators. Modernizing our ageing infrastructure is vital to our economy, homeland security, and energy independence. Today's concerns such as climate change, cybersecurity, and physical vulnerability pose new challenges to designers. Our team of A-E professionals considers all relevant and current Federal standards associated with facility and infrastructure modernization and construction including:
Energy Independency & Security (EISA)
Energy Conservation & Sustainability
Anti-Terrorism and Force Protection
Historic Preservation & Cultural Resources
Low-Impact Development (LID)
Climatic Change Resiliency
Cybersecurity
Federal Projects:
PNSY Substation 7 Modernization (NAVFAC)
VAMC Bedford, MA Mental Health Ward Renovations (VA)
PNSY B42 Renovations (NAVFAC)
VAMC Togus Campus Roof Replacements (VA)
PNSY CWIS Permitting & DD2 Design (NAVFAC)
VAMC Providence DDC Integration (VA)
DFAS Rome HVAC Modernization (NAVFAC)
PNSY LC4 Electrical Distribution Infrastructure Modernization (NAVFAC)
MSU Cleveland HVAC Systems Assessment (USCG)
PNSY Mechanical & Electrical Utility Infrastructure Modernization (NAVFAC)
PNSY Communication Network Infrastructure Assessment (NAVFAC)
PNSY Industrial Control System & Regional Operation Center (NAVFAC)
Building A Electrical System (NHARNG)
Cadillac Mountain Visitor Center Sanitary System (USNPS)
Somersworth Fleet Motor Services Renovations (NHARNG)
Berlin Readiness Center Stormwater & Sewer Improvements (NHARNG)
Water Supply Cross Connection, New Boston AFS (USAF)
CCTV Security System, Army Aviation Support Facility (NHARNG)
PNSY Marine Hydrokinetic Implementation Study (NAVFAC)
PNSY FY16 Energy Projects (NAVFAC)
Kettle Pond Photovoltaic System (USFWS)
Energy Efficiency Improvements at SB McKinney NWR (USFWS)
New Boston AFS Sustainability & Energy Audits (USAF)
New Boston AFS Lavatory Modernization & ADA Compliance (USAF)
Portsmouth Readiness Center Commissioning (NHARNG)
State & Municipal Projects:
Adaptive Reuse of Doble USARC – Portsmouth Senior Activity Center, City of Portsmouth
Town Hall Boiler System Replacement, Town of Berwick, ME
Town Hall Energy Audit, Town of Berwick, ME
Pellet Boiler System, Municipal Water Treatment Plant, Wolfeboro, NH
Local Energy Audit, State of NH Office of Energy and Planning
Municipal Building Facility Assessments & Renewable Energy Study, Town of Hollis, NH
Town Hall Energy Improvements, Town of Farmington, NH
Energy Audit, Town of Milford, NH
ARRA Energy Projects, Town of Rye, NH
Municipal Buildings Energy Audits, Town of Rye
Pellet Boiler System, Water Treatment Plant, Wolfeboro, NH
Facility Energy Study, State of NH Office of Energy and Planning
Local Energy Audit, State of NH Office of Energy and Planning