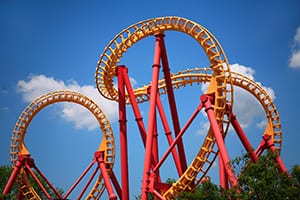 Wunderlich-Malec has executed a number of projects in the attraction/theme and ride control industry, and we feel confident that our staff of professionals can not only meet but exceed the scope, schedule and budget requirements of our theme park clients.
Understanding that the ride control industry presents unique challenges unlike any other, Wunderlich-Malec values a strong and meticulous engineering focus that delivers the best solutions for our customers. Wunderlich-Malec ride control and theme park projects are driven by repeat business from our customers who are consistently pleased with our dedication to superior engineering design.
Wunderlich-Malec's project experience with ride control system design, programming, commissioning, and acceptance testing spans the following:
New Ride Control System Design
Obsolescence Upgrades (e.g. PLC-5 to CLX, PLC-5 to GLX, etc.)
UL 508A Panel Fabrication
Third Party Validation Services
Owner's Representative Services
Ongoing Performance Improvements & System Modifications
Ride control systems must be properly engineered, design, manufactured, and tested to ensure guest safety, system reliability, and application fit for intended use. Wunderlich-Malec executes all of our projects within a structured design philosophy that validates the engineering with rigorous testing procedures that are routinely audited and accepted by regulatory officials. Wunderlich-Malec has completed several of the following deliverables for our ride control customers:
Theory of Operations
Performance Specifications
Fabrication, Installation, Validation Plan Procedures
Facility Interface and Point of Connection
Electrical Design and Cable Schedules
Enclosure, Panel, Electrical Distribution, PLC, Network Drawings
System Hazard Analysis, Safety Functions, Failure Modes and Effects Analysis (ISO-13849-1)
OEM, Limited Life, Spares Documentation
Detailed Design Specifications, Software Design Specifications
Factory Acceptance Testing
Site Acceptance Testing (ISO-13849-2)
O&M Manuals
Operations and Technician Training
---
What makes us different? Our Pledge, Process, and People
Your project requires an experienced, trusted and proven organization that is dedicated to YOUR success.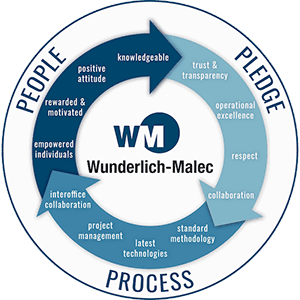 A combination of our …
Pledge of trust, operational excellence, collaboration and respect,
Process of standard methodology, latest technologies, project management and interoffice collaboration,
People that are empowered individuals, rewarded & motivated, knowledgeable with positive attitudes,
… provides the confidence you need to know that your project is going to be delivered on-time and on-budget with results that exceed your expectations.