Why Join Wunderlich-Malec?
Stable, Growth Oriented, Innovative
We're proud of our Company and our employee owners, and are pleased you'd consider Wunderlich-Malec to continue your career.
If you wish to become part of a talented, growth-oriented team of professionals, read on. If you're interested in project-engineering opportunities that provide variety, challenge and professional growth, read on. And if you seek a rewarding environment where career development is magnified, read on, and we look forward to your contribution to our mutual growth and success.
Wunderlich-Malec takes pride in being a provider of expert engineering-related services to industrial, commercial, and governmental clients throughout the United States and abroad. Wunderlich-Malec has grown steadily, and established a solid customer base by continuing to improve our services and capabilities. We believe our business growth and success is a direct result of the dedication and effort of our employee owners. It is this kind of dedication that will provide continued success to our Company, and that will distinguish us from our competitors.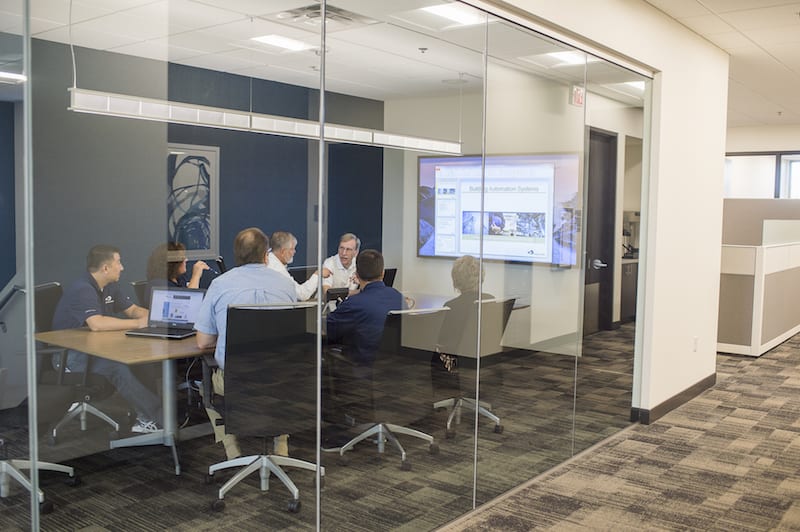 Think like an employee owner
Demonstrate honesty and integrity in all business practices
Satisfy the customer
Promote company growth and profitability
Contribute to customer and company sustainability
Show pride in the company
Provide attractive and competitive compensation and benefits
Provide career growth and development opportunities
Ensure equal opportunity and diversity
Balance career and personal life
Celebrate success
When selecting an automation provider, it's important to know the foundation they have built their success. Wunderlich-Malec's success is fueled by our strong and long-lasting customer relationships guided by our company culture. Based on three key pillars – Our Pledge, Process, and People, Wunderlich-Malec's culture is the foundation of our business.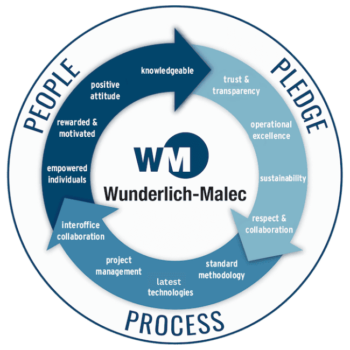 The Wunderlich-Malec Advantage
We appreciate your interest in career employment with Wunderlich-Malec Engineering, Inc., where our mission is to provide consistent, high quality planning, engineering, integration, service and consulting solutions that exceed our customers' expectations. And we believe this is accomplished by employing the best, the brightest and the most positive employee owners who seek an engaging and challenging work environment and who are motivated to grow and maintain our culture of ownership.
From his humble beginnings in 1981 with one site and one employee, founder Neal Wunderlich has driven Wunderlich-Malec's dynamic growth to over 30 locations and 400+ employees. Please explore our website to learn more about Wunderlich-Malec Engineering and to consider career opportunities with our firm.
As a 100% employee owned company since 2012, Wunderlich-Malec is proud to offer a comprehensive employee owner benefit package as highlighted below:
Medical • Dental • Vision • Basic and Supplemental Life and AD&D • Long Term Disability • Voluntary Short Term Disability • Healthcare & Dependent Care Flexible Spending Accounts • Health Savings Account • Paid Time Off (PTO) • Paid Holidays • Tuition • Reimbursement • Referral Bonus Program • 401(k)/Profit Sharing • 100% ESOP (Employee Stock Ownership Plan) • Employee Assistance Program • Will Preparation Resources • Worldwide Travel Assistance
We're proud of our 100% employee-owned company and are pleased you'd consider Wunderlich to continue your career. Review the opportunities currently available with Wunderlich-Malec by clicking on the button below. We look forward to your sharing expertise and experience with our current cadre of exceptional employee owners–consider joining the Wunderlich-Malec team of professionals today!
Equal Opportunity Employer
We are an Equal Opportunity Employer (EOE) of Minorities, Females, Protected Veterans, and individuals with Disabilities
At Wunderlich-Malec, we provide equal opportunity to all employees and applicants in accordance with all applicable equal employment opportunity (EEO) and affirmative action laws. We are committed to taking affirmative action to ensure that all employment practices are free of discrimination.
ESOP - 100% Employee Owned
An ESOP (Employee Stock Ownership Plan) is a tax qualified employee benefit program, regulated by the US Department of Labor and the IRS, which provides our employee owners the benefit of ownership in the company. Our ESOP allows us to recruit and retain the best technical talent to staff your projects. Learn more about our ESOP.