Wunderlich-Malec provides a full spectrum of electrical engineering and power solutions for commercial, industrial, institutional, municipal and government clients. Our solutions include power systems, plant upgrades, energy monitoring and management, power distribution centers and security systems. We can support all phases of a project from concept to completion, including design, procurement, construction, validation and project management.
Electrical Engineering Applications
Power, Switchyard, and Operating Plant Upgrades
Conversions from E/M or older systems to IED
Parallel, Emergency, and Backup Generation
Self-contained Operations, Power Islands, Micro Grid
Distribution & Transmission Communications
Protection and Control of Generators and Power Systems
Energy Management Systems
Revenue and other Power Metering
NERC Operating and Control Regulations
Cyber Security
Engineering Services
Utility Interconnection Studies
Electrical Modeling, Coordination Studies, and Arc Flash
Generators & Generation Application Design
Protection and Control for Electrical Transmission and Distribution
Relaying – Protection & Controls
Intelligent Electrical Devices (relays, controllers, and RTU)
Utility Control Centers Communications DSU/CSU, MPLS, T1, etc.
Routers, Networking, and Security
RTU, DCS, HMI, SCADA, IED, and Database Programming
---
Electrical Power Engineering
Wunderlich-Malec is a proven leader in the design and construction of substations, generating substations, and electrical power distribution. Our team has extensive experience with high and medium voltage applications for new or upgraded facilities as well as emergency and paralleling engine generators, gas turbine generators, switchgears, and required auxiliary equipment.
Solutions
Balance of Plant Controls
Engineered Modular Systems
Equipment Life Extensions and Upgrades
Power Generation
Power Plant Facilities Management
Power Plant Process Controls
Substation Design
---
What makes us different? Our Pledge, Process, and People
Your project requires an experienced, trusted and proven organization that is dedicated to YOUR success.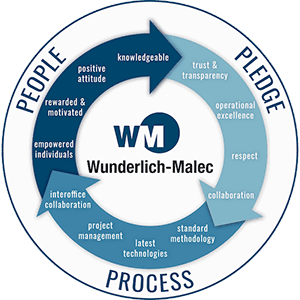 A combination of our …
Pledge of trust, operational excellence, collaboration and respect,
Process of standard methodology, latest technologies, project management and interoffice collaboration,
People that are empowered individuals, rewarded & motivated, knowledgeable with positive attitudes,
… provides the confidence you need to know that your project is going to be delivered on-time and on-budget with results that exceed your expectations.