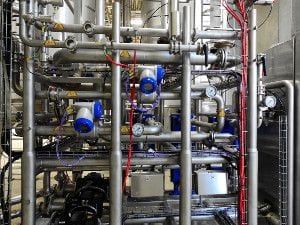 Wunderlich-Malec provides process and mechanical design and engineering services specifically tailored to our customers' unique requirements. Our comprehensive services include mechanical engineering services for mission critical HVAC, clean rooms and laboratories, offices and manufacturing, steam, condensate and hydronic systems, process water and wastewater systems, compressed air and gas systems, fire protection systems, and boiler and chiller systems. We specialize in sustainable buildings, resilient systems and engineering studies.
Software Tools that Lower Costs & Accelerate Schedules
Wunderlich-Malec invests in the most advanced software tools, BIM Technologies and training available, giving our engineers the resources they need for modeling, lowering engineering costs, creating higher quality documentation and accelerating your schedules.
Our skilled engineers are proficient with:
AutoCAD®
SysQue® Revit® MEP Managed Content
Revit®
PIPE-FLO® Fluid Analysis and Design Modeling
Siemens NX PLM
Trane TRACE™ Design and Analysis
Navisworks
ReCap 360
---
Feasibility Studies, Conceptual & Final Designs
Our engineers provide process piping analysis, modeling systems using PipeFlo® and SysQue® Revit® MEP software. PipeFlo® helps optimize and troubleshoot new or existing fluid piping systems. SysQue® Revit® creates real-world, manufacturing specific content that's ready for fabrication and installation.
Services include:
Piping Layouts
Process Flow Diagrams
Piping and Instrumentation Drawings
Isometric and 3-D Drawings
Equipment Arrangement
Site Layouts
---
Construction Management Services
The expertise and experience of our engineers meet the challenges of client systems in project and construction management.
Bid Packages
Mechanical Contractor Selection
Bid Analysis
Shutdown Scheduling
LOTO of Systems
System Startups
---
P&IDs
With expertise in Process and Instrumentation Diagrams, we design systems for food and beverage, semiconductor, oil and gas, water and waste water, mining, and a variety of general industrial applications. From documenting an existing application to designing your new systems, Wunderlich-Malec can help you develop P&IDs and PFDs in many areas, including:
Valve sizing and selection
Instrumentation selection
Loop design
Mass balance calculations
Line/duct sizing calculations
---
What makes us different? Our Pledge, Process, and People
Your project requires an experienced, trusted and proven organization that is dedicated to YOUR success.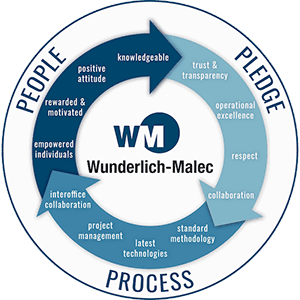 A combination of our …
Pledge of trust, operational excellence, collaboration and respect,
Process of standard methodology, latest technologies, project management and interoffice collaboration,
People that are empowered individuals, rewarded & motivated, knowledgeable with positive attitudes,
… provides the confidence you need to know that your project is going to be delivered on-time and on-budget with results that exceed your expectations.