Advanced Energy with mGrid®
Competitive, Resilient, & Renewable Energy Delivery Systems with Microgrids
Wunderlich-Malec provides a suite of innovative strategies, tools, and software that help your team meet aggressive sustainability goals including high renewable content and net-zero goals. Ultimately our objective is to help you make the business case for building sustainable energy infrastructure that delivers the lowest possible cost while maximizing your sustainability goals
Wunderlich-Malec experts can work with your team to apply the mGrid® tool suite, train your staff, and license tools to your team, as appropriate.
Leverage mGrid®, microgrids, and local Distributed Generation to achieve lowest possible energy cost, resiliency, and renewable/net zero goals.
Make the case for investment into renewable delivery systems leveraging mGrid® tools training, and our innovative utility microgrid approach.
Leverage mGrid® services and tools to produce the lowest life cycle project costs and highest performance.
mGrid®
mGrid® a patented software system for coordinating and optimizing microgrid and sustainable assets such as renewables, storage, gas-fired generation, distribution systems, and loads to produce the most sustainable least-cost solution for energy supply. This software also provides system monitoring, measurement and verification, savings, and sustainable metrics reporting. These capabilities are identified and organized in one convenient on-site computer control station. mGrid® standard GUI can be integrated into your existing SCADA system for consistency and seamless user interface.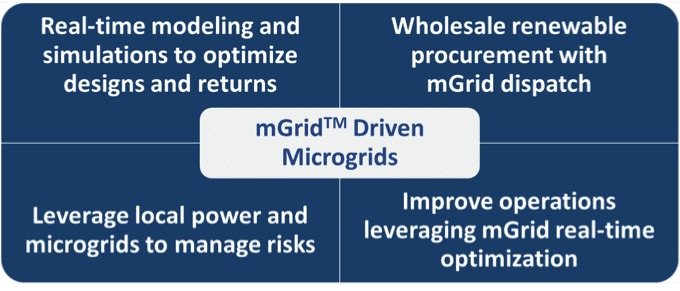 Tools and Software
We provide microgrid and renewable delivery system modeling, conceptual design, and procurement strategies to guide you through the maze of potential options and challenges faced by today's rapidly changing energy environment.
Customer Site Generation and Advanced Procurement Modeler & Simulator: Advanced hourly energy demand and financial modeling tools for optimization of local generation and advanced procurement.
mGrid® Generation Dispatch Optimization: Real-time generation dispatch with wholesale renewable power.
Microgrid Design Tool & Simulator: Concept and technology architect and optimization.
Utility microgrid, NWA and Net Zero Tools: Perform substation and customer Distributed Generation optimization simulations to design and make the business case for non-wires alternatives, utility distribution, and Distributed Generation investment programs.
City Net Zero Simulator: Leverage this simulator to quickly assess the impacts and costs associated with achieving your net zero goals.
For more information or to request a quote for your facility, please contact us.