Wunderlich-Malec's experienced engineers deliver practical solutions to your EPC project. We can supplement your existing team with specialized talent or take charge and effectively manage all aspects of your project, reducing your risk and exposure and streamlining project execution. Our EPC services group gives you a single point of contact and an owner for all project goals with the implied accountability.

Our role is to provide Project Coordination of Engineering, Procurement and Construction activities as defined by the needs of your project. Our focus is to execute on-time and within budget, minimize delays and document, track and communicate progress.
Wunderlich-Malec provides customers with value engineering, quality system integration, and innovative panel and control house solutions. As an experienced engineering company with offices throughout the United States, we are uniquely qualified to deliver value-engineering services that lower costs, improve quality and accelerate project schedules.
Services
Conceptual Planning and Project Programming
Design Engineering
Procurement, Contracting & Expediting
Construction & Construction Management
Quality Control and Quality Assurance
Safety and Risk Mitigation/Management
Start-up, Commissioning and Training
Operations and Maintenance
---
What makes us different? Our Pledge, Process, and People
Your project requires an experienced, trusted and proven organization that is dedicated to YOUR success.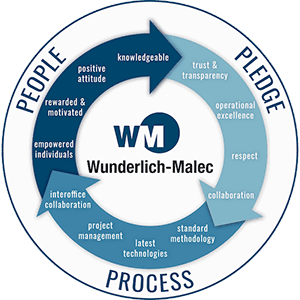 A combination of our …
Pledge of trust, operational excellence, collaboration and respect,
Process of standard methodology, latest technologies, project management and interoffice collaboration,
People that are empowered individuals, rewarded & motivated, knowledgeable with positive attitudes,
… provides the confidence you need to know that your project is going to be delivered on-time and on-budget with results that exceed your expectations.