Case RMC, LLC can help you optimize your Hydro operation's efficiency by providing a control system specifically tailored to your turbine governor's needs. We source a wide range of diverse, purpose-built control solutions and applications, allowing us to engineer a unique system for your prime mover that will provide automated, reliable and cost-effective operation of your equipment for existing turbine governors, as well as custom governor systems for new Hydroelectric installations.
We do not manufacture an electronic control system platform. Our engineering expertise is designed into industry standard components to form state-of-the-art Hydro control solutions. All hydraulic solutions are in-house designed, assembled and tested products.
Offerings include Digital Control Systems, Electrohydraulic Interfaces for existing Hydraulic Systems, and new High-Pressure Hydraulic Systems.
RMC-001 Pilot Control Shuttle Manifold
Operates Hydroelectric Turbine Governor's Hydraulic Distributing Valve
Equal-Area Valve Servomotor/Controlets
Ideal Electro-Hydraulic Interface for Gate-Shaft Governor Conversions
Type-A Valve Servomotor/Controlets
Type-B Valve Servomotor/Controlets
Operates Smaller Wicket Gate, Needle, Etc. Servomotors Directly
Download: RMC-001 – Product Specification
RMC-001 Pilot Control Shuttle Manifold Woodward Gateshaft Governor Conversion
Provides Electro-Hydraulic Interface between Modern Digital Control System and Vintage Gateshaft Governor System
Download: PA-001 – Application Document
RMC-002 Redundant Pilot Control Shuttle Manifold
Operates Hydroelectric Turbine Governor's Hydraulic Distributing Valve
Equal-Area Valve Servomotor/Controlets
Type-A Valve Servomotor/Controlets
Type-B Valve Servomotor/Controlets
Operates Smaller Wicket Gate, Needle, Etc. Servomotors Directly
Download: RMC-002 – Product Specification
RMC-003 Triple Shutdown, Type-A Pilot Control Manifold
Operates Hydroelectric Turbine Governor's Hydraulic Distributing Valve
Designed Specifically for Type-A Differential Valve Servomotors/Controlets
Applies Modulated Pressure to Larger "A" (Opening) Control Piston
Constant Pressure is Applied to Smaller "B" (Closing) Load Piston
Triple Shutdown – Accommodates up to 3 Independent Shutdown Valves
Download: RMC-003 – Product Specification
RMC-005 D05 Servo Control Shuttle Manifold
Servomotor Control Valve Assembly for Hydro Turbine Governor Systems
Hydraulic Control Manifold with Shutdown Shuttle Valve
D05 Proportional Valve (ISO 4401 Size 10)
Integral Shutdown Shuttle Valve, Operated by D03 Solenoid Valve (ISO 4401 SIZE 06), In Compliance with IEEE Std 125 – 5.8.1
Downloads: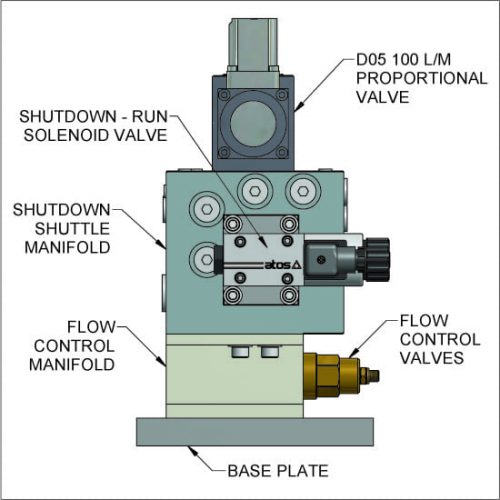 RMC-004 Redundant, Triple Shutdown, Type-A Pilot Control Manifold
Coming Soon