Frequently, the Mechanical Scope of Supply for a project is just as important a consideration as the base Controls. Many times, a Mechanical solution may be the only requirement to solve a problem
Case RMC is extremely proficient and knowledgeable with most of the mechanical systems and requirements associated with rotating machinery assets. This skill set provides us with the ability to consider the entire system during a project and provide an overall holistic solution.
CRMC has been requested to provide solutions ranging from stand-alone, filter skids through full steam turbine MHC conversions. All of our solutions are designed in-house, manufactured by local, trusted shops, and final assembled / tested in our facilities. Component selection and application, custom piece part design, and bringing the whole system together is what our Mechanical team is known for.
Valve Actuation

High Pressure Hydraulic

Dedicated oil supply

 

Redundant servos with LVDT position feedback

Low Pressure Hydraulic

Take advantage of existing lube oil systems

 

Designed to operate continuously is less than optimal conditions

Electric

Hydro Turbine Solutions

Hydraulic Systems

Hydraulic Pumping Units (HPUs)

Simplex or redundant devices (pumps, motors, instrumentation)

Integrated fluid conditioning and cleaning

Westinghouse unloader solutions

Oil Filtration

Accumulators

Instrumentation

Speed Sensing

Mounting brackets, sensing "gears"

Pressures, Temperatures, Levels, etc.

Thrust

Fuel Control

Gas systems

Flow control

Shut-off / safety

Liquid Systems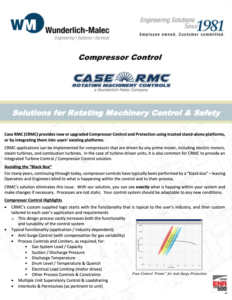 Download Our Compressor Control Brochure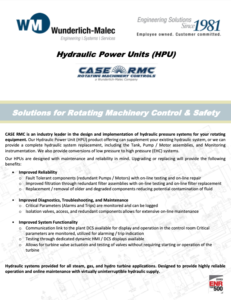 Download Our Hydraulic Power Units Brochure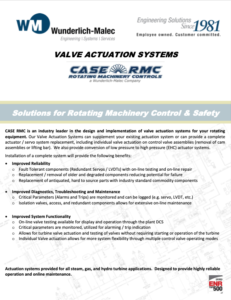 Download Valve Actuation Systems Brochure
Contact Us About Your Project
Contact us to speak with one of our knowledgeable, highly skilled team members about the specifications of your project and how we can partner to meet your engineering needs.