Industrial facilities nationwide are facing some very serious challenges—rising energy, power outages, rising costs, shifting to electric vehicle fleets, and environmental pressures including net zero.
Goals
Wunderlich-Malec's mGrid™ business unit is an industry-leading Microgrid Architect with unparalleled expertise, tools, and software. We assist facilities with upgrading site energy infrastructure including adding site generation to hedge rising prices and engage in advanced procurement strategies. In essence, we assist your team with developing a phased set of strategies, concept designs, and financial models to justify investment in your site electricity distribution and deployment of advanced procurement strategies.
Phase 1: Concept Development, Energy & Financial Models, and Feasibility: Leverage mGridTM tools to perform a quick microgrid feasibility study and proforma using the mGridTM performance scorecard.
Phase 2: System Concept Optimization and Financing: Use mGridTM tools to perform hourly energy and financial modeling and simulations of a wide array of technologies, energy procurement, and utility rate options to optimize existing or planned microgrids.
Phase 3: mGrid Integration and EPC Oversight: Integrate mGridTM into the system design and apply the Wunderlich-Malec quality process to the entire project design, maintenance, and operating strategy.
Phase 4: Operations Oversight and Optimization: Use mGridTM patented software to dispatch site energy assets to achieve goals. This can include leveraging dynamic rates and lower cost real-time wholesale power.
Case Studies
Wunderlich-Malec developed microgrid concepts and provided owner oversight services to a wide array of facility and campus types. Below are eight of the projects that moved forward with implementation of the optimized microgrid concepts based upon the mGrid energy models, simulations, and financials.

The Delavan Grow facility is a valuable case study for understanding the Wunderlich-Malec owners oversight services. For this project Wunderlich-Malec (see separate case study):
Performed concept optimization using the mGrid tools
Issued key equipment competitive bid requirements and assisted with equipment selection
Provided the mGrid microgrid risk assessment tools and process to improve and optimize the overall microgrid design to improve reliability and reduce O&M costs
Provided the control theory of operation with design oversight and project management services
Provided mGrid operations oversight software
Managed system commissioning
Managed microgrid system dispatch during facility startup and operation
In another mGrid application the Illinois Institute of Technology improved reliability and efficiency leveraging the mGrid design. This included:
Redundant self-healing Intelligent distribution system
Thermal energy distribution with cogeneration
On-site electricity generation
Demand response capability (AC, lighting, major loads)
mGrid System Controller
Advanced building energy systems
Feeder Redundancy will allow the re-routing of power to buildings in the event of a fault on a distribution feed. Used in concert with high-speed automated breakers and switches, redundant feeders allow for the instant reconfiguration of the system to keep power flowing to all buildings.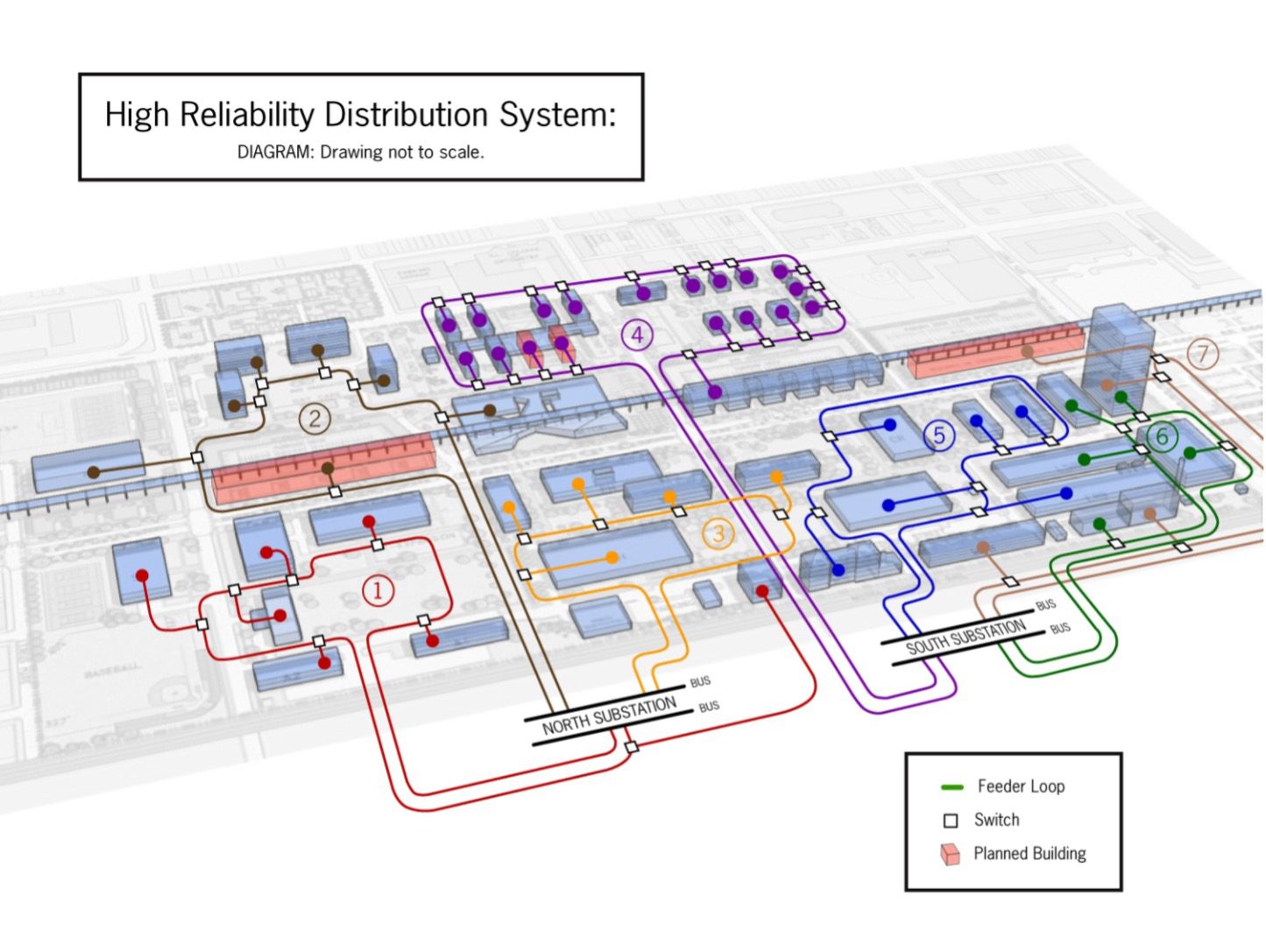 The HRDS leverages a continuously energized loop feeder concept which provides a redundant electric supply to each campus building. Both feeds will be energized and supply electricity to the building, as well as being capable of carrying the entire building load. High-speed, intelligent automated switches will detect and isolate a fault without loss of power to the building.
The proposed HRDS design is reliable, versatile, upgradeable, and cost-efficient.
Figure 10 provides an overview of a Building Integrated Energy System which includes redundant electricity supply, efficient hot and chilled water supply, uninterruptible power source and/or generation, renewable energy sources, and an advanced building control system.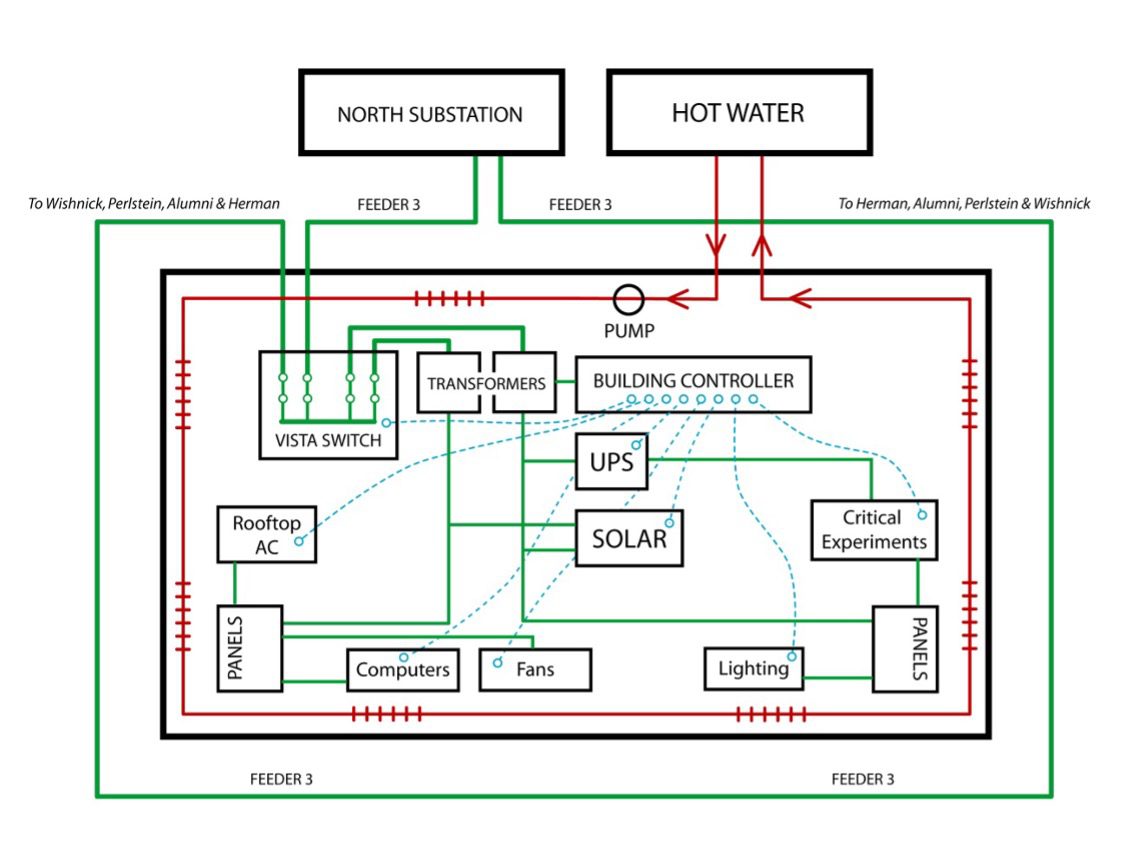 How to Get Started?
The project is accomplished through a facilitated process that minimizes the time and resources from your team. Put simply, projects provide inputs and participate in a series of facilitated interviews/walkdowns to gather additional inputs and review results while discussing design options, performance levels and capabilities. The primary deliverable is an energy delivery and procurement readiness assessment report which includes the following:
Evaluate economics for investment in site power capability for resiliency and saving
Assess advanced procurement and rate options hedged by site generation
Explore strategies for achieving high renewable content or net zero carbon goals
Inputs required include:
Annual energy use and cost including sample utility and energy supplier bills
Electricity 8760 hourly, 30 min or 15 min data for the main site utility meters. With your permission, Wunderlich-Malec can typically request or download this data from the utility.
Discuss/review site power distribution system to determine optimal point and type of interconnect
Review natural gas line size and pressure
Identification of available space for new equipment and expanding existing equipment
Discuss air permit feasibility
---
For more Microgrid information or a consultation contact:
Wunderlich-Malec's experienced engineering team can help customers determine the best microgrid and mode transfer design to meet their needs. Contact John Kelly from the mGrid™ team to discuss your microgrid needs at john.kelly@wmeng.com.