Wunderlich-Malec is proud of our successful ISO 9001:2015 Quality Management System re-certification in our Winslow, Maine Fabrication facility which provides electrical control panels, substation enclosures and industrial water skids ad enclosures.
In the past three years, we have complied with ISO requirements and went through an evaluation process that included: upkeep of our Quality Management Systems, internal and external quality audits, management reviews, surveillance audits, ISO recertification audits and clearance of any non-conformances, all of which was to identify corrective actions and to eliminate any non-conformance to our quality management standard.
Our motivation to become re-certified demonstrates our commitment to providing quality products and services to all current and future customers. To maintain our certification, we are required to continuously perform internal audits and management reviews to ensure compliance and to assess initiatives for continued improvement. We believe that this registration will be increasingly important in the industry we serve as it further strengthens our commitment to our customers and our Company Quality Policy.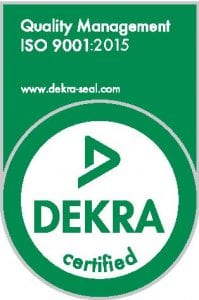 The DEKRA Seal is used to distinguish businesses with management systems that have been thoroughly tested and audited by DEKRA to meet defined standards in areas such as safety, quality, and sustainability.