A new way to troubleshoot
A world class maintenance tool for the Industrial Marketplace. VIP Services (Virtual Information Portal) is a server / mobile app created specifically to improve efficiency and increases productivity and provides
Everything you need to do your work – All in the palm of your hand!
VIP Services – Digital Transformation
Reduce Unscheduled Downtime – Technicians lose time looking for resources, schematics, procedures or other info needed to complete a task.

VIP On-Demand – Links equipment to relevant data via a VIP QR Tag. VIP provides requested information the technician needs in his hand.
VIP Capture – Allows the user to add data or information over time – snapshots, notes, etc.

Better Decision Making through Digitization – Today, Downtime Issues, & PM Procedures are done manually – This can result in unclear or inaccurate data collected – resulting in possible problems.

VIP RealTime – Shows relevant dashboards, alarms and trends – allowing the user to make better decisions and be more productive.
VIP WorkOrder – Manual procedures are automated to ensure data is collected correctly.
---
VIP Services – How does it work?
VIP Services is a server / tablet-based application that runs on a Microsoft 10 platform for PCs and Tablets

The VIP Server & Tablets (VIP Client)
VIP Server holds the VIP QR Tag data
VIP Client runs on tablet and displays info

VIP QR TAGs link plant assets to useful data.

VIP QR TAGs are scanned by any client tablet to display maintenance or application information.
Field technicians use VIP Services to provide immediate troubleshooting and repair information and assistance.
VIP Tower
Recently Released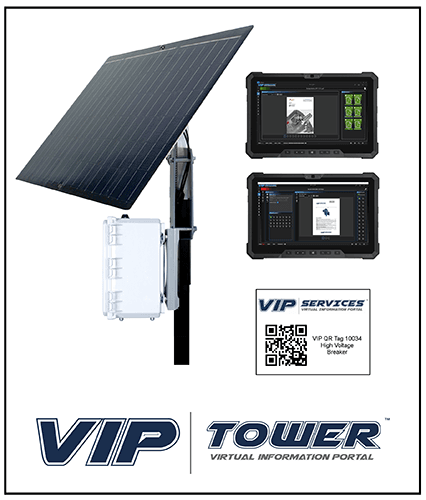 Download VIP Suite
Learn More About VIP