Our Building Automation systems and engineered solutions are solving facility problems and lowering operation cost every single day. From industrial and commercial campus controls automation to facility system monitoring and integration, our solutions improve reliability and performance.
With more than 35 years of experience, we provide facility control systems for air, water, environmental and security. Based on our Pledge, Process and People, we deliver on time and on budget allowing you to minimize operational and maintenance costs through proven technology and strategies.
Solutions and Services include:
Access control
Digital surveillance
Facility system integration
Security and risk management
State licenses
Wireless networks
Asset based configuration
Fault detection and diagnostics
Metering
HVAC
Central utility plant integration
Reporting services
---
What makes us different? Our Pledge, Process, and People
Your project requires an experienced, trusted and proven organization that is dedicated to YOUR success.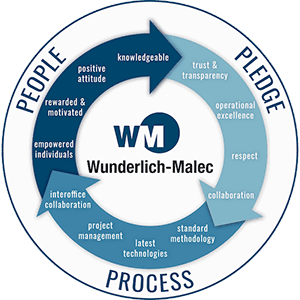 A combination of our …
Pledge of trust, operational excellence, collaboration and respect,
Process of standard methodology, latest technologies, project management and interoffice collaboration,
People that are empowered individuals, rewarded & motivated, knowledgeable with positive attitudes,
… provides the confidence you need to know that your project is going to be delivered on-time and on-budget with results that exceed your expectations.